We like to keep you updated by sharing the noteworthy changes on this page. We release a new version at least once a week, but not every update is noteworthy.
Build 3485 - 08/21/2023
You can now switch your account from a Single Sign-On provider to a password-based one.
We've made optimizations to keep everything running smoothly.
Build 3420 - 06/15/2023
Significant response time improvements for users with high domain count.
Improved DMARC report processing speed.
Build 3243 - 10/31/2022
Push and email notifications extended with extra information.
Build 3128 - 06/23/2022
Chrome 103->105 has crippled the Reporting API deprecation reporting. We've added a workaround to replace the report data with the correct values.
New deprecations have been added to the notification feature.
Small interface tweaks.
Build 3100 - 06/01/2022
Many small performances and interface tweaks.
Build 2962 - 02/17/2022
Fixed a bug that caused some email notifications to be sent more than once.
Fixed a bug in email uptick detection that caused the 'view' button to show the data from the wrong date.
Increased SSL/TLS certificate host detection algorithm.
Other minor fixes and changes.
Build 2906 - 01/13/2022
Added an option to hide notification types on your dashboard that you're not interested in.
Small fixes.
Build 2900 - 01/12/2022
🔥 NEW: An advanced inventory and monitoring tool for your SSL/TLS certificates. Included in Stone, Mountain, and Himalaya subscriptions.
NEW: Easily view and download your subscription invoices in your account settings.
Many minor fixes and updates.
Build 2659 - 11/15/2021
NEW: Hosted MTA-STS, included in Pebble Plus, Stone, Mountain, and Himalaya subscriptions. Read more about this in our blog.
Build 2600 - 10/14/2021
Instant DMARC reports extended with ARC validation
Added a step-by-step Getting Started Guide to the dashboard to assist users in setting up their URIports account and desired report types.
Build 2585 - 10/13/2021
We made some minor changes to the login page.
The proactive alerts and notifications that accurately detect issues with a domain's web and email setup are probably our most powerful features. That is why we've moved them to a more prominent location on the dashboard.
Build 2550 - 09/28/2021
Added login buttons for those who prefer Github, Google, or LinkedIn Single Sign-On authentication to reduce the number of passwords to keep track of.
When you add a new domain to your account, DMARC, SPF, MTA-STS, DANE, and TLS-RPT DNS records are automatically detected, and their syntax is validated and tested for issues and suggestions.
Build 2536 - 09/23/2021
We added Single Sign-On with OpenID Connect. Read more about this in our blog.
Build 2490 - 08/31/2021
DMARC: Added a button to each report that provides more textual explanations of what is happening.
Some small backend tweakers
Added Instant DMARC reports. Read more about this in our blog.
Build 2466 - 08/25/2021
Some technical changes in the DNS Monitor.
A few interface tweaks, like a new "Inspect" button that is slightly smaller so the other columns can be a bit wider.
Build 2464 - 08/24/2021
Added new DMARC views for easy navigation
Added DKIM Public key validation (RSA & Ed25519) to DNS Monitor and Tools
Build 2428 - 08/13/2021
Duplicate DMARC aggregated reports are now automatically filtered and not reprocessed. If for whatever reason, a report email was received multiple times, the report count would increase incorrectly. This issue has now been resolved.
Build 2418 - 08/05/2021
NEW: Quickly and easily lookup WHOIS information and abuse email address by clicking on an IP address.
Bug fixed where the inspect view would show records outside the filter scope.
Build 2413 - 08/03/2021
NEW: Reports now have (predefined) views that allow you to filter quickly for specific data. You can add your own custom presets as well.
'chrome-extension://' URLs are now hyperlinks to the Chrome web store. This allows you to see which extension is responsible for a specific violation.
Some minor visual and speed improvements
Build 2373 - 07/05/2021
DMARC column was added to indicate whether the DMARC policy has been applied or ignored by the receiving mail server.
Added a new notification when DMARC reports show a significant increase in the number of messages that failed DMARC validation. This could indicate that a malicious party is sending email messages on behalf of the domain or that there are issues with the DKIM and/or SPF configuration.
DMARC line graph shows values based on the DMARC validation outcome, not the disposition value. This gives a clearer picture of the DMARC results, even when the DMARC policy is set to p=none.
We removed the Failed only switch on the DMARC page because the new DMARC column allows you to filter and group on the fail value quickly, making the switch redundant.
We've separated the DMARC source IP and hostname values into separate columns so you can filter and group both.
Minor visual and speed improvements
Build 2333 - 06/01/2021
Updated the DNS Monitor. You can now easily view the detected issues in your DNS records. The suggestions to improve your DNS records are now even better and more detailed.
DNS issues are now also shown in the dashboard under the section "Monitored domains".
If you are over your monthly quota, no more reports will be processed in your account. Every month you will automatically receive your new quota based on your subscription. Do you want extra quota once? This is now possible for a small fee.
Build 2259 - 04/21/2021
NEW FEATURE: DNS Monitor
It notifies you if it detects any changes or errors in your DNS records and suggests ways to improve and correct them.
Build 2184 - 04/07/2021
Added new notification when domain nameservers are not in sync. We regularly check the SPF, DKIM, DMARC, and TLS-RPT records. We will let you know when we detect any inconsistencies.
Build 2159 - 04/01/2021
Visual enhancements for DMARC Auth Results that fail identifier alignment.
DMARC inspect view speed improvements
Build 2079 - 12/07/2020
We have added country flags to DMARC source IP addresses to quickly identify their origin.
Minor visual improvements
Build 2045 - 11/18/2020
Date selection, searches, grouping, filters, and more are now visible in the URL for easy copy/paste sharing with others.
Major overhaul of the well-known back button! 🔙 You can now easily go back to a previous view when filtering through your data. Clicking on a filter, entering a search query, grouping data, etc. can now be easily undone by pressing the back button on your browser, mouse or whatever. This will greatly speed up analyzing report data. No matter where you click, you can always undo your last browsing action. I love it! (I'm biased, I know ...) 😊
You can now click inside the graph to filter and deep-dive the data behind the graph. Clicking in the legend at the top will set a filter for the selected data (font-src in the example). You can also click on a dot in the graph. This will set the filter and changes the date range so you can examine what happened. This is useful when you see a large spike in your graph. Filter font-src and the date 11-10 will be set when clicking the dot in the graph. Try it!

Build 2041 - 11/16/2020
Expanded Cross-Origin-Opener-Policy reports with property, sourceFile, columnNumber and lineNumber elements.
Build 2033 - 11/09/2020
Massive rewrite of the reporting engine so the whole platform is a lot more efficient and much faster in use.
Added reporting for COOP and COEP. Read more about these new reports.
Added multiple fixes for Microsoft's TLS-RPT reports not complying with RFC guidelines. We are working closely with Microsoft to resolve these issues with their reports.
Build 2026 - 10/27/2020
Scoring and syntax validation for all report types enhanced for better feedback on resolving the issues.
Accelerated processing of incoming reports from Reporting API
Bug fixed with Telegram notifications, causing a small delay in certain situations
And many, many, many performance and interface tweaks
Build 1868 - 04/28/2020
Added a setting so a user can change the time format from 12 hour to 24 hours
Added a new notification when we detect DKIM signatures with unsupported algorithms. This notification indicates that email messages were signed using weak, obsolete or experimental algorithms. This is caused when email messages are being signed with algorithms other than rsa-sha256.
Made it easier to change the domains that team members have access to
Team admins can now resend the activation link for new users and can send password reset emails
Build 1850 - 03/12/2020
We now fully support punycode domain names (xn--)
We have made some changes in detecting if you have conflicting block or ignore rules and we automatically fix them.
A few small UI tweaks
Build 1838 - 03/03/2020
We have built a separator and an option to hide reports that aren't triggered by many sources (unique visitors on your site).

When creating a block or ignore rule, you can now select the option to run the new rule on the current dataset. This way you can easily clean your dataset.
And small fixes, as usual :)
Build 1836 - 02/07/2020
We have now even better filtering tools so you can play more with your data to find issues. Every field will show a filter-icon when you hover the field. Press the icon to create a filter for that field.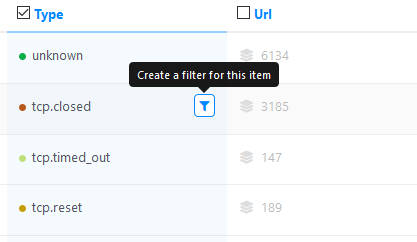 Browser icons are now colored so they can be spotted easier.
Links in the reports like Source-file, URL, etc are now clickable so you can immediately go to the link that is in the report.
Build 1832 - 02/26/2020
🔔 A new notification added! When we detect a new Content Security Policy violation that is triggered by more than a few unique sources, we'll send you a notification. This can indicate that there is malicious activity on your website, that you have misconfigured your Content Security Policy or that you have added extra sources in your page that aren't whitelisted in your policy. When you click on the "more info" button in the notification, we will immediately highlight the violation. How awesome is that! If you need help fixing CSP violations, read our blog about CSP.
When you are viewing your reports, we now highlight newly detected reports that didn't happen before, mostly indicating that something just went wrong on your server, like when you create a new 404 error by accident. (we will also send you a notification when we find new 404's).
We have made a few tweaks in the graph so it is even more readable.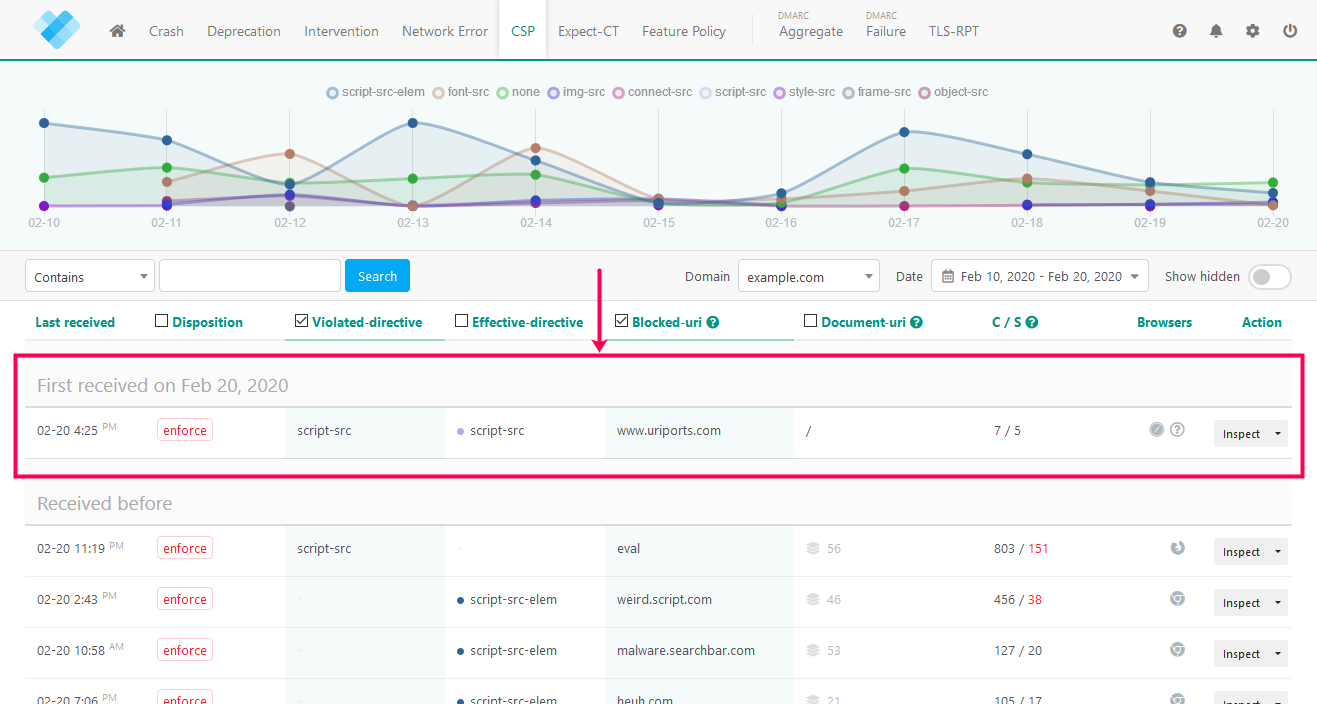 Build 1822 - 02/24/2020
Boom! Another nice new feature. We have upgraded the period selector to a date range selector. Small change, big impact. Instead of choosing a period like the last 3, 14, 30, etc. days you can now also create your own date range so you can view reports from a specific day or range. This helps you to better analyze the reports by creating more focus.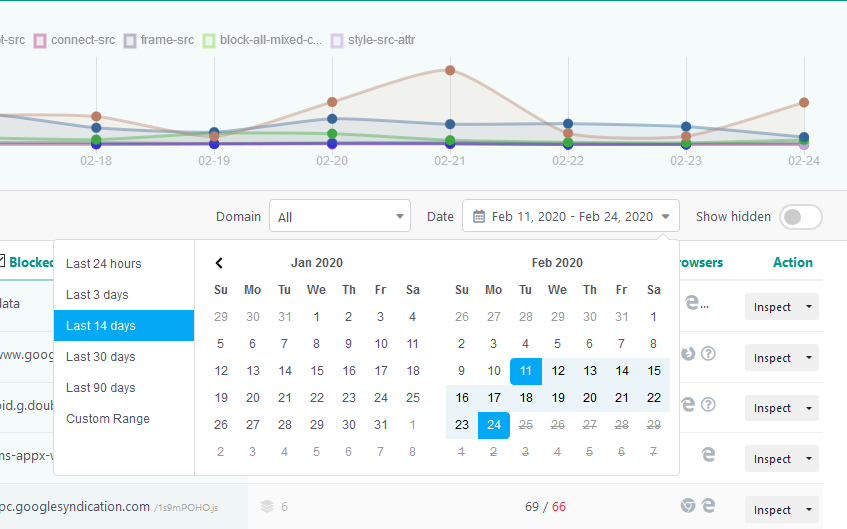 A little UI tweak: The colors in the graph are changed and now every item in the graph has its own color. The color in the graph is also displayed in the table. It is now easier to relate to the colors in the graph and the table.
Build 1807 - 02/04/2020
We have an awesome new DMARC feature! In the graph of your DMARC reports, you now have a small dashboard with three very important indicators. It's shows you your DMARC, DKIM and SPF performance. DMARC being the most important and should be least 90%. When the DMARC percentage is lower, it could be an indication that your domain is used for sending malicious email or that you have misconfigured DMARC resulting in email not being properly delivered.
Solved a few little display errors.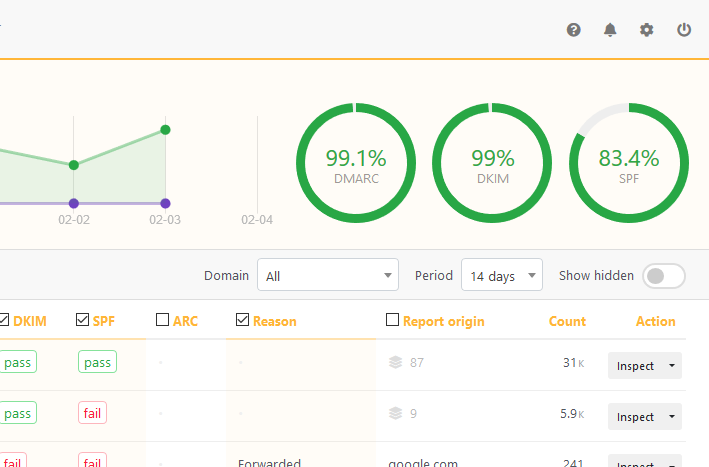 Build 1800 - 01/24/2020
Small and bigger performance upgrades
Many small bugfixes
We work on improving our software every day. We will certainly mention major changes and new features in this change log. Not all change is worth mentioning though, at least not here. We sometimes have a small party at the office because we have written a super efficient and awesome new function. Well, we are nerds and we love it.
Build 1700 - 11/26/2019
Our subscription plans are live! It's now possible to subscribe to a plan that meet your requirements. Each plan has its own reporting quota and features. You can read more about them here: https://www.uriports.com/pricing
This also means that Team Access is now available! Share the analyzed data with your co-workers. Get your team members involved by giving them access to your data in URIports. You can define exactly what domains they have access to and if you want them to manage your filtering rules.
And many, many, many performance and interface tweaks
Build 1597 - 09/11/2019
Added the ability to add a public PGP key to your account for encryption of DMARC failure reports allowing you to decrypt unfiltered message headers and body for forensic analysis.
Build 1560 - 08/04/2019
We've updated the reporting engine for Expect-CT. If the build number of the browser that sent us the report is older than 10 weeks, we ignore the Expect-CT report because these reports are unreliable. Thanks to this measure, you only receive Excpect-CT reports of issues that go wrong, but not the false positives sent by older browsers that can clutter the view.
Build 1542 - 07/18/2019
📈 Those build numbers go up fast! 😎 We're constantly fixing, improving and rewriting stupid code we wrote when, at the time of writing, going to bed was a better idea. But hey, we ♥ to write code and we ♥ to rewrite code to make it even better.
We've now added even more details to the DMARC-RUA reports. It's now possible to see all DKIM and SPF authenication results given by the MTA that sent us the report. Previously, only the first authentication result was visible.
Fixed a few sleeping indexes. (hint zZzZz-indexes)... </stupid joke>
Pssst.. about having a ♥ for coding: did you know the logo of URIports is a colon (:) and two slashes (//)? Like: :// because that's part of an URI. We've rotated it 45 degrees and guess what! Now it looks like a heart! Nifty eh?
Build 1483 - 07/01/2019
Changed the column layout for some reports to give more insights
Added extra details in DMARC-RUA reports
Added email validation for new accounts to make sure the email address is valid for notification messages and account messages like password resets.
Improved performance by fine-tuning database queries
Added some traps to catch bugs flying through our systems (and office)
Build 1433 - 06/12/2019
You can now easily change the email address of your URIports account.
Added the published policy to DMARC-RUA reports.
Small graphical fixes
Build 1422 - 06/06/2019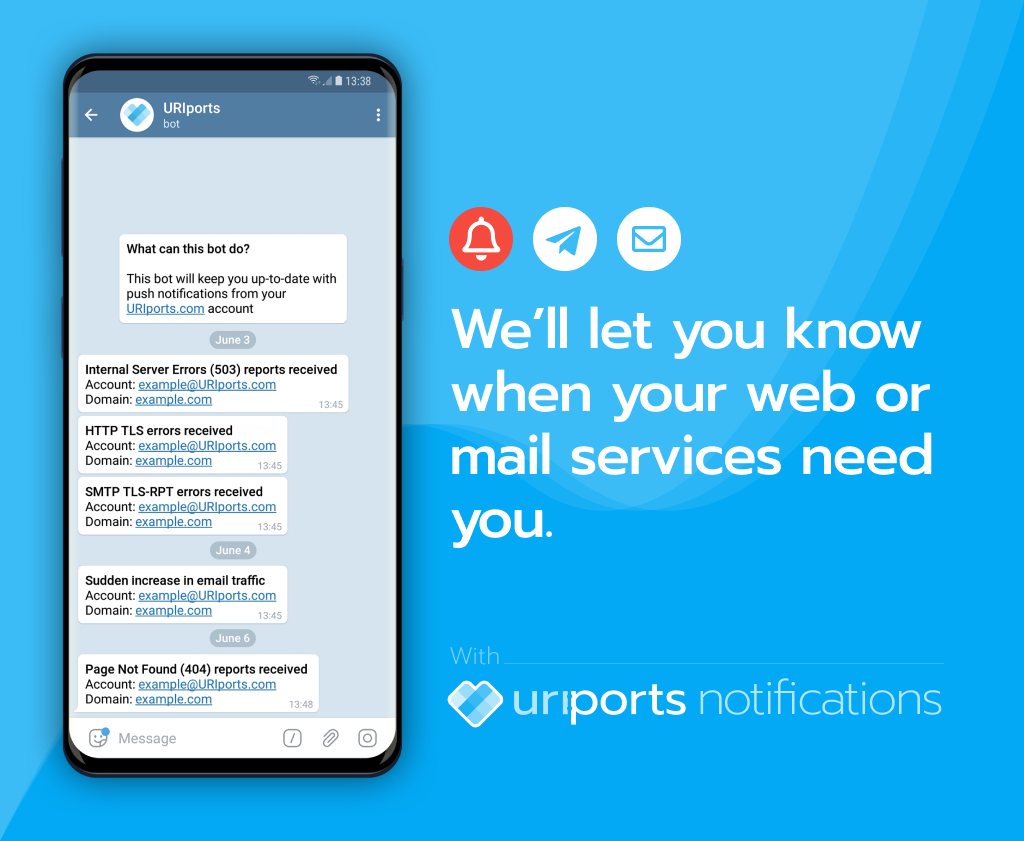 🔔 EMAIL AND PUSH NOTIFICATIONS - Know exactly what happens when it happens! We understand that you do not have time to log in to your URIports account every day to review the reports. That is why we have an advanced reporting system that detects significant events and keeps you informed by email or Telegram (push). You can easily configure which notifications you want to receive and how often.
And of course many small fixes for the app and also for the reporting engine.
Build 1371 - 05/23/2019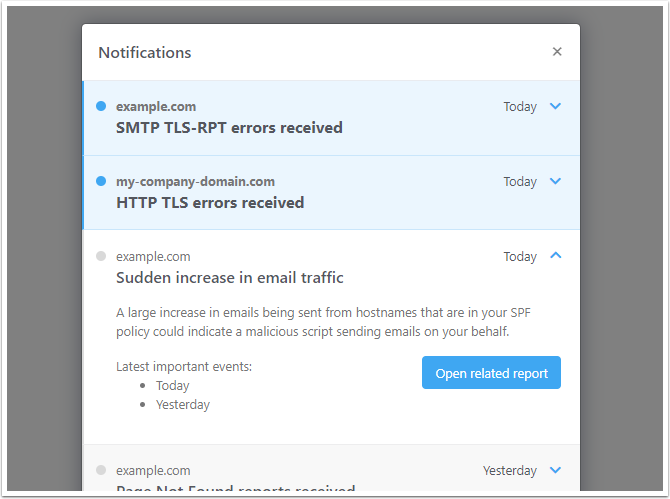 🔔 NOTIFICATIONS - We're proud to announce a new version of URIports including an awesome notification feature! This notifies you when there are issues that require your attention. You can find your notifications in the top right of the app when logged in. Alerts via push notifications are coming soon!
Graphs - Updated the graph design to make the data more clear and easier to read. The graph also updates the data set when you're searching or filtering.
Build 1363 - 05/22/2019
Sticky headers - Important headers are now sticky at the top of your screen when scrolling.
DMARC Aggregated - Option to hide DMARC-reports is now defaulted to 'true', so in default, you also see the DMARC-reports with disposition none, meaning they are delivered to the inbox of the recipient.
Further tweaking of the interface, now with nicer-looking column names.
Build 1362 - 05/21/2019
CSP3 COMPATIBLE! 🤙
Two-Factor Authentication - you can now trust a device for 30 days so you don't have to enter your authorization codes every time you log in.
Timezones - Small timezone fixes for our Australian friends
Few small performance updates and interface tweaks
Build 1353 - 05/16/2019
Add an option to view all your monitored domains in one report
Added feature to easily navigate and dive into report data.
Option to hide DMARC-reports with disposition none so you can focus more on the reports that need your attention.
Server fine-tuning for faster rendering of your reports
Made the inspector-slidedown feel faster and made some UX improvements
A few graphical tweaks
Build 1282 - 04/23/2019
Added Disposition column for DMARC-RUF that shows: reject, spam, other , unknown or delivered;
Fixes for DMARC-RUF reports sent by LinkedIn;
Added work-around for a typo in the MTA-STS reports sent by Google;
Added two work-arounds for errors in the DMARC reports sent by Yahoo!;
Some small updates for Chinese DMAC-RUF reports.
Build 1270 - 04/18/2019
Changes in the TLS-RPT engine that processes all the reports, so the reports are processed even faster.
Build 1267 - 04/17/2019
Find out whats new in this build. It's looks pretty small, but it's the attention to details that makes URIports really stand out.
Browser Shares - it's now possible to view, when inspecting a report, which browsers triggered the most reports. This way you can quickly see if a specific report is triggered by only one browser or by multiple browsers.
Explanation texts - We've added more descriptions to explain difficult values inside a report.
TLS-RPT - We've updated the TLS-RPT reporting view, so now you can quickly see what the report is about and what's wrong.
Many small fixes - <joke>like moving the coffee machine closer to our desks</joke>* **